STORYTELLING - PERSONAL BRANDING - COPYWRITING
Grow Your Digital Empire With
High-Impact Stories
Writing High Impact Stories for busy CEOs, Founders & Creators + Helping Solopreneurs Build their Digital Empire
About me.
Hey!! I'm Sudhanshu 🖖
A long-form content specialist, a blogger, and an aspiring author using my natural knack for words to help Solopreneurs, Personal brands, Entrepreneurs, and Coaches create their authority and build a treasury of information that relates to your target audience, for your digital empire.
After discovering my love for writing, I found the beautiful realm of online marketing, which led me to one day use it and help others.
With a thirst for knowledge and growth, there has been no end to my curiosity in search of an elegant truth… through studying words in the most theoretical and practical sense possible.
My goal is to use the power of words and help you build empires by taking you close to your prospects by sharing the right kind of premium and educational information, that lays the foundation for growth. 
High-Impact Writing
I'll do all the RESEARCH, CREATIVITY, and STORYTELLING that you need to persuade your audience with posts, blogs, webpages, pillar pages, sales, and landing pages.
LinkedIn Personal Branding
Blending New Gen techniques and Time-tested Wisdom to help you become a story to remember + Build a brand kit for you with Templates and Frameworks for communicating your value.
The Skew Sage Consultation Hour
I'll share my SECRETS and WISDOM with you to PLAN, DEVELOP and EXECUTE your IDEA or SOLVE CONTENT/COPY PROBLEMS and communicate your VALUES to your prospect.
Work with me
3 Different Ways I can Help You
I take a keen interest in the writing business so that you can focus on managing your empire.
Case Study
Take a look at my research
Testimonials
What people are saying
Sudhanshu is extremely professional; he provided me with a quick and accurate solution, and the best part is that I was never bored during the call. He is a wonderful guy and my go-to individual for consultation and content strategy.
Kartik Thakur
Founder of Basslila, Youtuber, Music Producer and Educator
Sudhanshu has delivered quite an exceptional article. I only gave some key pointers and bam! He has given me the most interesting piece of content. It was very nice working with you and the results you delivered are outstanding. I recommend sudhanshu to anyone who is looking for a quality content writer! Great going and thanks a lot!
Monisha Sri
Content Writer, Blogger and Copywriter
Sudhanshu is a hard-working pro eager to learn and improve his work. As a content writer he brings his best to the table and gives original compelling pieces. He also comes up with some great insights thanks to his natural personality and keen observation. I am looking forward to watching his journey as a writer and an aspiring author.
Om Gupta
Freelance Content Writer
This book will change the way you think about creativity and decision-making. A must-read for aspiring Creators and Leaders. Let's talk about Six Thinking Hats.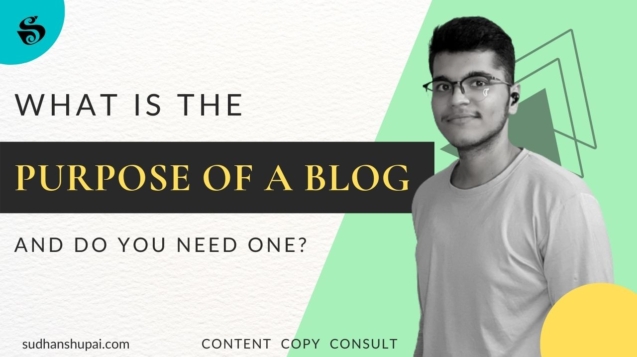 I have written over 130 blogs in the past 1 year alone, but why? What did I get out of doing that? What is the purpose of blogging? Well, for starters, I ...
The Ultimate Guide To Starting a Blog Read up on how you can start, run and generate revenue with thisall-in-oneguide to blogging and building an online presen ...